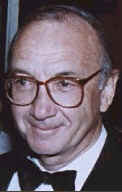 Neil Simon - a prolific playwright
By K.E. Weber
Neil Simon was born on July 4th, 1927. For at least 40 years, his unique empathic style of humour has graced film, television and stage.
Neil Simon has produced more Broadway hits than any other playwright. (In fact, he once had four plays on Broadway at the same time!) Although he is probably best known for his characters Felix Unger and Oscar Madison from The Odd Couple, other plays such as Plaza Suite, Last of the Red Hot Lovers, The Gingerbread Lady and The Prisoner of Second Avenue have assisted in making him the wealthiest dramatist in history.
Marvin Neil Simon was born in 1927, in the Bronx, New York. He started writing comedy for television in the 1950's. It wasn't until the late 1950's that he decided to switch his allegiance, and write for the theatre instead. In 1961 his first play, Come Blow Your Horn, opened on Broadway. Even though it was received with mixed reviews, it ran for two seasons. But it wasn't until the success of his second play, Barefoot in the Park (1963), that he could lay claim to a runaway hit.
Neil Simon's early plays were hugely successful at the box office, but not so with some critics, who said his one-liners outweighed the development of character and plot. The semi-autobiographical trilogy - Brighton Beach Memoirs, Biloxi Blues (in which the issue of anti-Semitism is handled) and Broadway Bound changed those views, however.
In 1983 Brighton Beach Memoirs won the New York Drama Critics' Circle Award for best play. Neil Simon was again acknowledged that year when a Broadway theatre was given his name. It was the first time such an honour had been bestowed on a living playwright.
As well as his early television and stage successes, Neil Simon has had a writing hand in several musicals including, Sweet Charity and Promises, Promises. He was also responsible for writing the original screen play for many films including The Goodbye Girl, Murder by Death and The Out-of-Towners.
Other successful plays include Chapter Two, They're Playing Our Song, California Suite and Rumors. His most recent works include Lost in Yonkers (1991) and London Suite (1994), which has already been adapted for film.
Sadly, Neil Simon may well have written his last play. But in the words of Oscar Madison, "Let's shake hands and part like gentlemen..."